Connected2Christ
Graduates Adoption

To Qualify to Adopt, You:
*Must have a web site ~ personal or commercial
(complete site, not under construction)
*Must be family-friendly, viewable by all ages.
*Must give appropriate credit to copyrighted materials.
*Must have the No Right-Click script installed.
*Most of all, must NEVER have any altered materials or
anything plagiarized by you or by another person.
By this, I am referring to original graphics.

---










I alone know the plans I have for you, plans to bring you prosperity and not disaster,
plans to bring about the future you hope for. Jeremiah 29:11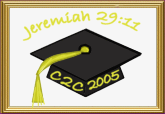 Link Certificate to:
http://connected2christ.tripod.com

---
http://connected2christ.tripod.com
All graphics were created by: Erin Carter/ C2C Graphics
All Rights Reserved ©2004 Connected2Christ
Created Wednesday, April 30th 2003